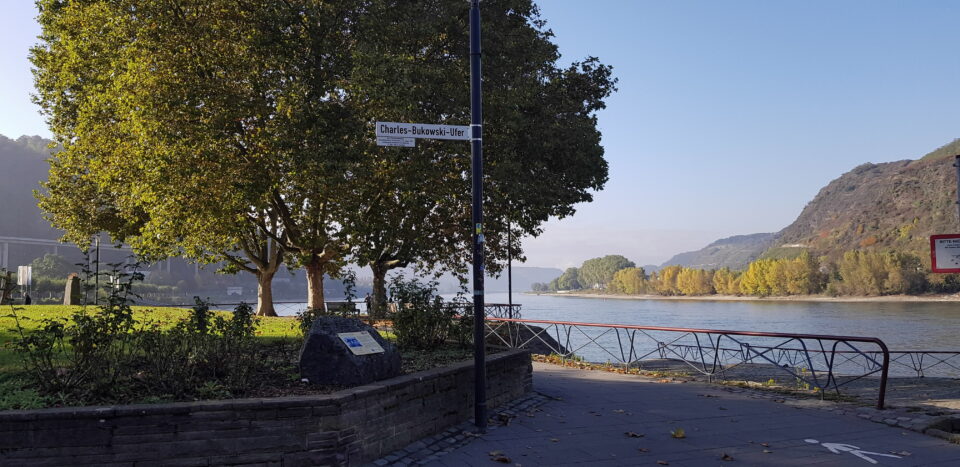 It happens to very few people: a century after their birth, they are given the great honor of having a stretch of riverbank in the town of their birth named after them! This is what happened to Heinrich Karl Bukowski, born in 1920 in Andernach as the son of an American GI and a woman from Andernach. In 1923, the family moved to California, and little Karl was henceforth called Henry Charles Bukowski.
1920 – 2020
Actually, 2020 was planned as the big Bukowski year in Andernach, but then Corona threw everything over. In 2021, many things were made up for, including a symposium of the Charles Bukowski Society, readings and a special Bukowski exhibition.
To top it all off, in July 2021 a small path in the Andernach Rhine park was finally named "Charles Bukowski Ufer", and right next to it is the corresponding commemorative plaque. Until then, there was only an inconspicuous memorial plaque on Bukowski's birthplace on Aktienstraße in Andernach.
Bukowski was a quarrelsome character…
…. eccentric, erratic, a misanthrope, addicted to alcohol and depressive. Even his excesses did not help him to dispel his inner demons. Only after the birth of his daughter did things start to look up for him. Despite this (or because of this?), many provocative thought-provoking ideas came from his pen, e.g.:
Almost everyone comes into the world as a genius and is buried as an idiot.
My ambition is hampered by my laziness.
But trouble and pain, that kept man alive. Or trying to avoid both.
The problem of this world is that the intelligent people are so full of self-doubt and the stupid people are so full of self-confidence.
We are all going to die, every one of us, what a circus! That alone should make us love ourselves, but it doesn't. We are terrorized by trifles, eaten up by nothing at all.
Bukowski wasn't the only one with a fateful connection to the United States, though: as you know, our subsidiary, LTS Corp. is also based in the U.S. (in West Caldwell, New Jersey) and it, too, enjoys international recognition…. 😉
Picture source: LTS Lohmann Therapie-Systeme AG