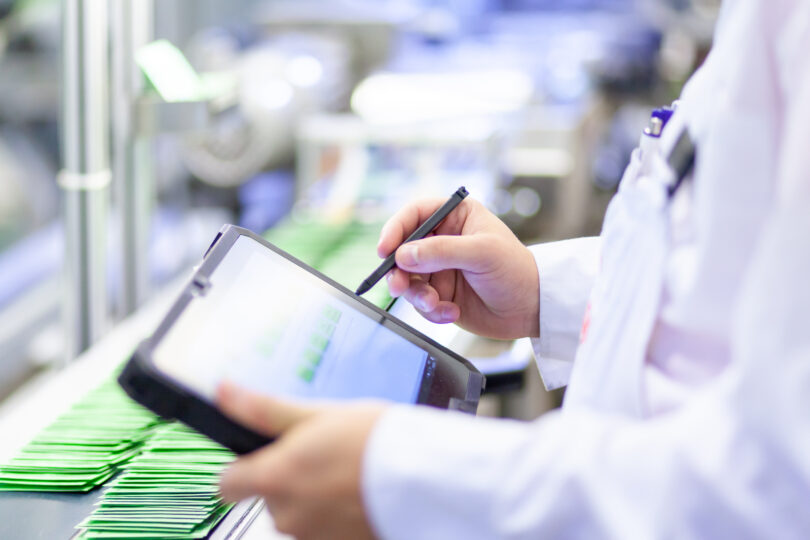 The factors efficiency, safety and product quality are the basis for sustainable production at LTS!
A company like LTS wants to develop continuously – always under the aspect of sustainability and responsibility for nature and people. To this end, we have launched a project entitled IM Fluss (Information and Material Flow) with the aim of "optimizing the flow of information and materials in our production facilities".
An external service provider developed the MES (Manufacturing Execution System) for this purpose, a software that links the data from the machines with the SAP processes.
The project consists of …
– Phase one – digital capture of people and machine data, and
– Phase two – the flow of materials
This required improvements, so the WLAN was optimized and then the workstations were equipped with tablets, scanners and touchscreens.
This resulted in a whole range of advantages:
– The machine operator can view the sequence of process orders at his workstation
– Personnel time is recorded directly at the workstation
– All machine data is automatically captured and recorded – including reasons for downtime
– A live view of the current machine status in SAP is possible
– Production quantity and machine status are documented retrospectively
– Premium wages are now calculated automatically, eliminating the need for manual time sheets
What is the current status?
The second project phase is already running! It is subdivided into:
– Introduction of a digital stock display for the incoming materials of the order, incl. location
– Digital inspection (scan) of the input materials at the workplace
– Direct consumption reports of the input materials at the workplace
– Automatic production protocol with material balancing at the end of the job at the workplace
Safety, efficiency and transparency come first!
After completion of the two phases, we as LTS will have achieved our goal – namely a significant increase in process safety in the sense of GMP as well as continued improvement of efficiency and transparency in the company. Interested in LTS and its products? Here is more to browse through!
Image source: LTS Lohmann Therapie-Systeme AG