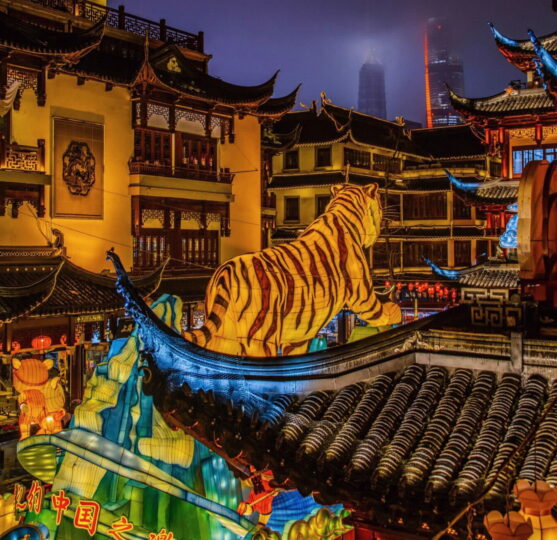 The Chinese New Year Chunjie or Spring Festival falls this year on February 1!
In China, New Year's Day is calculated according to the traditional lunisolar calendar and falls on a new moon between January 21 and February 21. So this year it is February 1 and with it ends the Year of the Metal Buffalo and begins the Year of the Water Tiger!
It is a clan and family festival. Since there is a high number of overseas Chinese, the largest regular migration movement in the world starts every year on this occasion. Chinese living away from their home areas often save their entire annual vacation entitlement to be with their families for at least two weeks for Chinese New Year.
However, Vietnam, Indonesia, Korea and other countries also celebrate this festival – in total, that's about 20% of the world's population!
The Year of the Water Tiger
Preparations begin two weeks before the festival. In China, the New Year celebration includes three public holidays, but traditionally there are fifteen. The conclusion is celebrated on the 15th day of the New Year with the Lantern Festival. The New Year is greeted with fireworks, dragon and lion dances, and the Mah Jongg games.
On the eve of the New Year at the latest, the entire family gathers for a sumptuous feast, traditionally chicken and fish. However, the fish is not eaten! In Chinese, "fish" and "abundance" are the same-sounding words, and the abundance or wealth should of course not be used up under any circumstances.
Red envelopes for many occasions
Red envelopes with gifts of money are distributed to the children. By the way, red in China stands for happiness, joy and prosperity.
Shortly before midnight, people leave the house, taking with them the traces of the old year outside, but then return to open the windows to let in the happiness of the new year.
On New Year's Day, the entire family gathers in the morning. People greet their parents with a New Year's blessing and a compliment. After that, red envelopes are distributed again – this time to unmarried family members. The important thing here is to commemorate and pay respect to the ancestors.
Tangyuan and other goodies
The following days are spent eating, visiting relatives and commemorating, and finally on the 15th day the Lantern Festival is celebrated. People eat tangyuan (rice flour dumplings with sweet filling) and light candles outside the house to guide the ancestral spirits home. This day marks the end of the Spring Festival.
Our colleagues in our Shanghai office are also looking forward to the upcoming holidays, even though traveling is still not easy at the moment.
Photo: LTS Lohmann Therapie-Systeme AG